Ringo application is know as cheap and affordable calling app over international call. After successfully launching International  call based app Ringo now bring a new feature low cost (19  paise) calling within India. Calling through Ringo no doubt is the cheapest and affordable calling rate.  User can make call by using Ringo by mobile as well as by landline phone also. This is the extra feature of Ringo that user can make call through landline.  Ringo many ways throw the challenge to all the big and small telecommunications companies.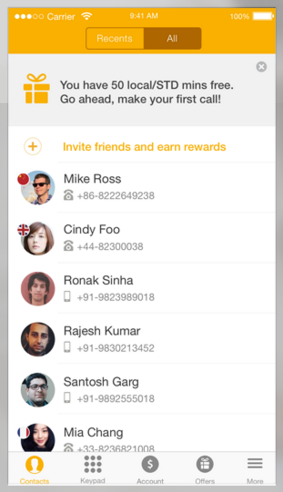 No doubt Ringo in next few months or a year will become top most application because it gives us offer to make a call only 19 paise a minute. Either mobile or landline user can make call both devices.  There is no charge during user on roaming.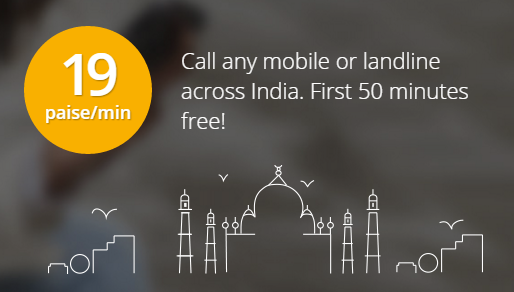 How it works
Place a call request
Simply tap on the person you wish to call from the Ringo app. Ringo supports both Local and International calls.
We call you & your friend
Ringo is a new and low-cost way to call. Instead of you calling your contact directly, we call you and then connect you to your contact.
Save upto 80%
Ringo does not use your local minutes OR your internet connection to make calls. So you can make good old high quality calls.
Features:- 
Call any mobile or landline anywhere
Your friends and family don't need the app for you to call them. Ringo just works.
Free calling minutes.
Never pay for your calls. Earn free calling minutes every month by claiming offers!Unbeatable,
"What time is it in NY?"
We've got you covered. Save a trip to Google, see your contacts local time inside the app before you make that call.
pay-as-you-go pricing.
No monthly fees or hidden charges of any kind. What's more? You get your first call FREE!
Instead of VoIP  calls like application based calling service Ringo claims telephone network instead of mobile data.  For use this app you don't need to install this user can make call without this app.
Ringo does't work like regular call user can tap over contact and use the option call through Ringo then it place your call through Ringo by using your telephone network.
Bhavin Thurakhia CEo and Founder of Ringo said that our vision provide simple and seamless calling facility across the globe.
Ringo app offers 50 minutes free talk time to evry new user who install Ringo and also give additional 50 minutes for each referal.