Datally: mobile data-saving & WiFi app by Google
Data doesn't have to be confusing, hard to control, or expensive.
Saving mobile data is easy with Datally, a smart new app by Google. It's a mobile data manager that will help you monitor, save, and gain control of your data. Through tracking and controlling app data usage, you save more data and get the most out of your phone.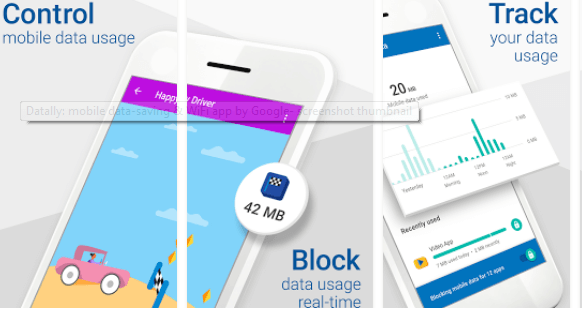 Download Datally by Google App (5 MB)
TAKE CONTROL
Learn about the best ways to gain control of your data usage
● DATA SAVER – Save up to 30% of mobile data* through controlling data usage on an app-by-app. Control and limits data on specific apps while still enjoying the apps you want
● DATA SAVER BUBBLE – Front and center controls allow you to see real-time app data usage, and block an app's data usage if things get out of control
UNDERSTAND YOUR USAGE
Easily track your data and understand which apps are using the most.
● DATA USAGE METRICS – Learn more about your data usage, including usage history, trends over time, and per-app usage
● PERSONALIZED RECOMMENDATIONS – See usage highlights, prompts to rate Wi-Fi networks, and reminders to turn on your data saver
SAVE MORE DATA
You can also get more data by find nearby Wi-Fi to watch more videos, browse more pictures, and download more files.
● WI-FI FINDER – Our Wi-Fi finder helps you discover great Wi-Fi networks nearby with details like distance. Before connecting, you can see how other Datally users have rated the Wi-Fi network, and you can also rate Wi-Fi networks that you've connected to
UPCOMING FEATURES
But that's not all! We've got new features coming, including those that are currently available for limited testing in select markets:
● Balance checking and balance expiration reminders
● Proactive data usage warnings and controls
PERMISSIONS
Datally requests certain permissions to help you get the most out of your mobile data, including:
● Phone – Used to help you monitor your phone's mobile data usage. Datally doesn't make or receive phone calls on your behalf.
● Location – Used to show you high-quality Wi-Fi networks nearby, and directions to get there.
● SMS – In select countries, this enables you to check your mobile data balance with your carrier, and to get smarter recommendations on how to save mobile data.
● VPN – Datally sets up a local Virtual Private Network (VPN) service on your device for you to help block unwanted mobile data usage – it doesn't send any of your traffic through Google's servers. The Datally VPN is only on your phone and doesn't redirect your Internet traffic to any other servers or locations.
Get Datally and start saving data now.
*Actual savings may vary and depend upon individual usage behavior
Users Review
Pl include the ability to customize data usage view. I want to see data usage in my telecom billing cycle which starts in the middle of the month, but by default the app shows me only usage in 1 particular month. Additionally, our carrier allows us to carry forward unused data from previous month, to new month's billing cycle . pl include feature to add this as well.
This app is great and does what it says. I deleted an app that was the #1 data user and I didn't even use it. I wouldn't have known if this app didn't point it out. My only problem is that if this app is running off of wifi it prevents me from sending and receiving mms texts and I use the stock Google messages app on my pixel 2 xl. Please fix.
Good job of reporting usage but can't setup VPN to save on data usage because authorization won't work. Press 'OK' button and nothing happens. Have to cancel out. Frustrating
I'm giving it five stars because it's made by Google and I like the concept 🙂 But I have to say that the app DOES NOT work on my Xiaomi Redmi Note 4X. When I click to connect the Wifi network, it crashes. I'm running Andoid 7.0 with MIUI9 on top of it.