M!Browser – Micromax Browser
By Micromax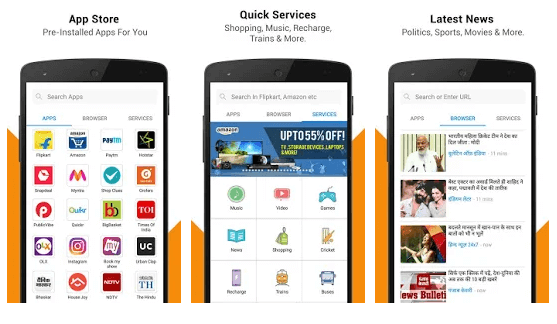 App Category:- Productivity
M!Browser – Micromax Browser
Features
M!Browser is official browser for all Micromax devices. It offers a Light Weight Web Platform for Smart Phones users with advanced functionalities like Browsing, App store and Services.
All the content inside the app is regional based which is based on user preference and location.
User can do many things from this app like Shopping, playing games, browse sites, hear to Music and watch movies etc.
M!Browser is first Indian browser solution providing hyper-regional content covering majoring Indian states. It provides news in all major languages like Hindi, Tamil, Telugu, Kannada, Marathi, Gujarati, Oriya , Bengali, Malayalam.
Main Features
★ Regional Browser
★ App Store
★ Services
★ Latest News
★ Websites based on states
★ PNR Status, Shopping, Games
★ Smooth User Experience
★ Lighter and Faster
★ Regional Browser
Home page is designed considering complex India demographics (29 states & 23 languages) & consumer behaviors.
Home Page serves three different kinds of data to consumer like India centric, Selected State specific content and Latest News
★ App Store
M!Browser provides top pre-installed apps to users. No need for user to install any of the apps and he can use the apps straight away.
M!Browser uses advanced Progressive webapps concept to achieve this behavior. This concept solves many of the user pain points like limited memory, sluggishness, discovery of apps etc.
Download M!Browser – Micromax Browser App Apk:-
Download M!Browser – Micromax Browser App Apk ( 5.16 MB )
User Reviews
App User
Really fast browser
Braj Bhushan Singh
Lightweight browser.Loved it!
Srinivas R
Nice App with all in one capabilities
App User
First of all i am a micromax user and in order to give review i uninstalled the app and reinstalled from playstore. Micromax has done a wonderful job in this browser very easy to use. Few feature that are missing is like offline video download like that in uc browser. I use uc browser for that purpose only but literally hate using a Chinese browser after facebook scam. So i want micromax to stand and take on uc browser. And show how fast the download speed can be better than other browser, offline videos from sites. When uc can do it micromax should stand back but bounce back.
Shaswat Verma
Great app….makes my phone even more smoother and most important All In One App…Good Job M! Browser…
karam Chauhan
I m fan micromax phone because phone not hang and running smooth so i love micromax and my india jai hind
Nitesh Maurya
Best app by indian developers Add some items like desktop size, resent sites etc.
जितेंद्र प्रधान
World best browser in the world but few more features are added to contribute this browser to the world leader
Shubham Saini
much better than UC browser no Adds
App User
Need improvement on as block and browsing speed.add all countries name plz.and it should have its own download like UC browser
Trishik Bose
Much much better than other browsers. Very fast and easy to use.
Electronics & Communication
best app for any company smartphones
App User
Good app than Xiaomi and better improvement than former time good Micromax I love it…..
App User
It's a wonderful browser and I love using this browser only
Vamshikrishna Y
Very small in a size. Very well designed for Indian users and low end mobile phones into consideration. Contains all required sites. Great thing is " Each site in app tab makes feel like independent app"
Rinku Bhalothia
Very nice app and small Ioved it it is very important
Rajeer E K Mugal
Best light weight browser I ever used but needs improvements. It is better than UC mini and Opera mini.
Balaji B
It's awesome all the app in this working fine but still some more job related apps and other payment app to be developed
App User
Wow please install this browser super
KarthiK Gowda
A awesome app which I have never used this app till now
App User
One of the bast app I have ever seen in my life!!!
Shivam Shrivastav
It is really amazing app and very good browser
Satendra Patel
MiBrowser is very cool …..I like and give five star for this browser maker…love u so much..but no add summit then bring five star
App User
It is very easy app and superb app by micromax informatics
Sujit Malik
One of the best UI on this app but need to improve it so that it can load as fast as possible. Download manager is stock one which is available on Android, this browser should include a download integration.
Hiruthaya Raj
I suppose this give many more entertainments. Thank you very much!
Jaykumar Khediwal
Very nice (all in one)browser by Indian company. Congratulations Micromax India.
ramkrishna kagawade
Good one, small size ,fast but need adbocker and speed improvement
Siba Behera
It is a good browser. But need it smooth and Google service and download options
Mohit Verma
Good app than uc browser and opera good micromax
Anup Upadhyay
Please upgrade your downloading sector.
Lalit Bhardwaj
One of the best browser with out adds