Learn Hindi Vocabulary – 6,000 Words
By Fun Easy Learn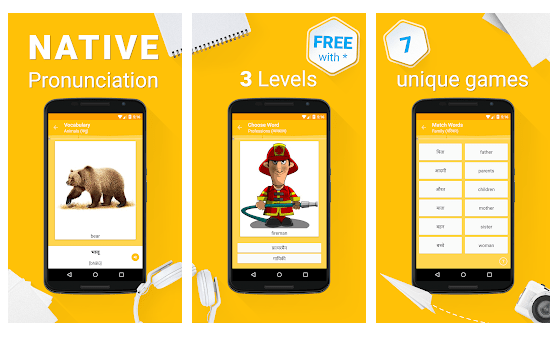 App Category:- Education
Learn Hindi Vocabulary – 6,000 Words
Features
FunEasyLearn is the easy and fun new way to learn Hindi – whether you like listening music from other countries, travelling abroad, working for an international company, or chatting with foreign friends. Our app encourages your kids to learn speaking Hindi quickly.
Get the FREE vocabulary app right now!
Learn
* 6,000 words with images to illustrate words, phonetic transcriptions and pronunciation recordings by native speakers.
* Vocabulary covers 15 thematic topics divided into 140 subtopics.
* The entire vocabulary has been translated into 59 languages:
✔ English ✔ Afrikaans ✔ Albanian ✔ Amharic ✔ Arabic ✔ Azerbaijani ✔ Belarusian ✔ Bengali ✔ Bosnian ✔ Bulgarian ✔ Catalan ✔ Chinese ✔ Traditional Chinese ✔ Croatian ✔ Czech ✔ Danish ✔ Dutch ✔ Estonian ✔ Tagalog ✔ Finnish ✔ French ✔ Georgian ✔ German ✔ Greek ✔ Hebrew ✔ Hungarian ✔ Icelandic ✔ Igbo ✔ Indonesian ✔ Irish ✔ Italian ✔ Japanese ✔ Kazakh ✔ Korean ✔ Latvian ✔ Lithuanian ✔ Macedonian ✔ Malay ✔ Mongolian ✔ Nepali ✔ Norwegian ✔ Persian ✔ Polish ✔ Portuguese ✔ Brazilian Portuguese ✔ Romanian ✔ Russian ✔ Serbian ✔ Slovak ✔ Slovenian ✔ Spanish ✔ Swahili ✔ Swedish ✔ Thai ✔ Turkish ✔ Ukrainian ✔ Urdu ✔ Vietnamese etc.
Fun
* Select from 7 fun games to learn in a uniquely entertaining manner.
* Built-in "Spin Categories" feature allows the app to choose a random topic, subtopic and game for you to enhance your learning experience.
* "Review Manager" allows you to review all the words you've learned during each game.
Easy
* No internet connection is required to use the app.
* 3 difficulty levels: beginner, intermediate and advanced.
* Choose your preferred tuition language from 59 pre-programmed interface languages: Hindi, English, German, French, Turkish, Russian, Korean, Arabic, Thai, Japanese, Italian, Spanish, etc.
Learn Hindi app is absolutely FREE!
Download Learn Hindi Vocabulary – 6,000 Words App-
Download Learn Hindi Vocabulary – 6,000 Words App Apk ( 56.6 MB )
User Reviews
sumesh nayar
Best app ……. To learn a language
Narendran naren
Great app Great & needed app for intermediaters for Hindi learning
Rajeswari V
Bachhon ko varthanee seekhna keliye bhi accha hai
Satish chikkala21
Wonderful app (helping me lot)
DeviPriya Velusamy
Very useful Its too good app. The games r very easy to memorise words easily. Thanks 🙂
Rob McMahon
Fun for reviewing vocabulary Fun little app for reviewing your vocabulary and improving your spelling
santhosh kumar
Samsung s2 This is the best app for hindhi learners especially for begginers
SIRAJ KHAN
Good. I want to learn this language because our country Pakistan is with India so we should know about our neighbours.
Gerald Manley
Fun and useful On the subject of weather, the phonetic spelling does not seen to agree with the Hindi word for "sunny". This is only a minor problem in a remarkable app.
Will Smith
Really great! Amazing app with lots of great features. Bravo!
javed rao
Fine applecation So much useful.Easy way to learn Hindi
vidhya raman
Useful App Its awesome! jus give a try 🙂
MEHAK ARORA
Awesome Very nice app I learning many words
SRIDHAR BCA
Sridhar cuts I love this app…it is very useful for the beginners
arun peter
Its a good tool for me to communicate
prahanth raja
good communicate hindi super app it is well performed in this apps nice job.
Parampreet Singh
Different types of vocab tests keep it interesting I like that the tests get switched around for the various vocabulary groups as it reinforces the lessons well.
janet opoku
It's like woooooooooow It helps children who have the desire to speak in foreign languages able to learn and communicate with other people.
Judy Nuseir
Love it These app is so usefull it is weekend and I wana learn a new language
chiranjeevi raju
Superb app I learn some extent of hindi easily with the help of this app can u make such a similar app to learn Kannada
TRICKY VICKY
Outstanding Very very good .excellent app thanks for your support of the best app
Selvyn Kennedy
Helping me with my studies here at Kendriya Hindi Sansthan Agra 🇮🇳
Vincent Luciani
Amazing A lot of different exercises and a lot of vocabulary. Amazing work !
M.S. Arun
Fun learning… Best part is, it's offline version…!! Nice work by the developer..
Sundaram Sankaran
Daily I am reading fun easy. All non hindi persons must see and improve their hindi skills. Superb
Beyond TheScenes
I learned hindi!! Thank you for this app really nice!:-D
MILON BAGDI
Very nice Help me for learning hindi.
Jennifer Kathleen
Excellent way to learn vocabulary quickly Great app. Easy to use. Tracks progress and easy to review. I needed another app to learn the script, but once I understood the letters, it was much easier to spell and pronounce the words I was learning. Have also used 'Fun, Easy Learn German' too. Love how these are structured.
Jill Watson
Love it! We are adopting from India & this app is great for us! I don't know what the points are for….Using with my 2 grade school aged boys. Downloading an alphabet app now.
perathu selvi
Wonderful app Am a new to hindi language.. its helping me a lot.. really useful.. Thanks to developers….
Lenin P.V.
Best coaching Though more sites,this app is more usefull and real practical coaching.Thank you.
Mohamed Thasin P.A
Excelllent….really loved this…. The methods used to teach in this app ….sprbb….its easy to learn…great wrk..by. the team behind this app
Shahnaz Stri
Awesome An excellent free app that actually teaches you hindi without in-app purchases. The ads are not intrusive and worth it. I would love to get full version with no ads, to support the developers. Thank you.
Mallikarjun Honaraddi
Brtter app for biginers This app will be better for all beginners and primary student to get much vocabulary…. thanks for dovelopers
Mariam video
I like it so much I really learn hindi language fast and the ads is balanced its the perfect app for teaching hindi language install it and its fast in installing ♥
jeremy nagel
Really good I've used a few Hindi apps and this is the best by far
Susin Desai
For a free app, I found the ads to be well balanced. There are banner ads shown at the bottom of the lessons, and one ad after each lesson. For a free app, I feel that's reasonable. 🙂 I like that this app not only teaches vocab, reading and spelling, but it allows you the option to decide if you want to focus on learning just one of those things, two of those things, or all of those things in your lessons. I also like that the words you're learning are not always in the same order if you choose to redo the lesson. (This way it's harder for your mind to just memorize the answers based on the order it's given.)
Dishon Gillis
Great games! I really like the learning games. I think it awesome that the gave me the option to multiply the number of vocabulary words I can learn by six times just for watching one short advertisement video. Let's see if they keep their end of the bargain.
Adam Staples
Great for ingraining words! Great for bringing words into long term memory with listening, writing, reading, seeing, etc.
srinath sakthivel
Great teacher!!! I was regretting for skipping my 3rd language class in my childhood days. But now I feel that I have got a good teacher.
Sruthi Veesam
Easy way to learn hindi Joyfull and we can learn many words easily