Google Go: A fast, easy, fun way to search
Google Go makes discovering, exploring, and sharing the best of the web easy and fast.
Get answers quickly and reliably with Google Go, even on slow connections and smartphones with low space. At 5MB in size, it's speedy to download and get started.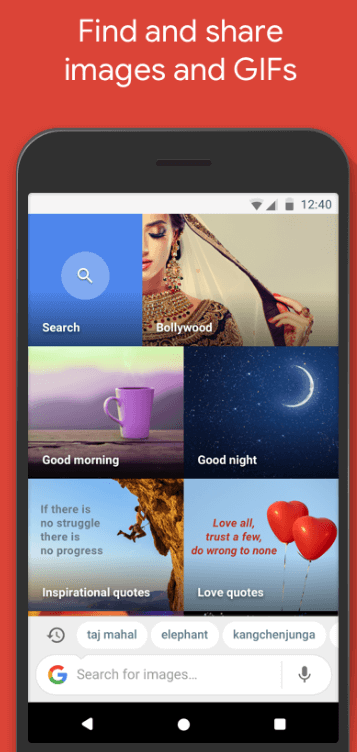 Discover what's popular and trending. Explore the latest trending topics just by tapping Search.
Download Google Go App (5 MB)
All your interests, in one app. Easily access your favorite apps and websites, as well as images, videos and information on the things you care about – all from Google Go.
Type less, search faster. Save time by tapping your way through trending queries and topics, or by using your voice to say what you're looking for.
Easily switch between languages. Set a second language to switch your search results to or from at any time.
Find the perfect greetings to share with loved ones. Tap on "Images" or "GIFs" to find the best photos and animated greetings to liven up your chats.
Whatever you are looking for on the internet, Google Go is here to help!
User Reviews :-
-Its a great app from Google… A futuristic concept. But I have to say that Please can you allow low android version to upgrade to Oreo Go , coz not all people know how to root install new version…. So if the Master of Android provides such facility then many people get a better Android Equality and Experience.
-this app is more like Google 'Search' rather then Google 'Assistant'. It doesn't understand most of the useful commands like 'Show me my photos from last week' etc and give plain search results. And also, you can't set this as your device's default assistance to use it by long pressing home key.) I love the new Google after Sundar Pichai. I love what they are doing for an emerging market like India. I love this app which is great for low end phone! The only thing I don't love about Google is lack of Adblocker and night mode in Chrome for android.
-Great aap because it is taking less space in the phone. And also provide high speed browsing. In this app have many shortcut keys for use your help. But one thing is that this app Expenditure more of our mobile data. because as much as we type into the search bar, it browses.
-Yes, it is a good initiative by Google to put together top sites at a place. But there is a problem with going to home page while using this app. If I press home button or when I switch tabs, I can't go back and continue my work. I hope this is just a bug.
-App is comparatively Better than Google app because The Best thing I Conclude that The Searching speed Was Great , GOOGLE GO App search less Than a sec. And All things are customized and one place.. You must have this app