Free Fire – Battlegrounds
by 111dots Studio
Free Fire – Battlegrounds is a survival, third-person shooter game in the form of a battle royale. 30 players parachute onto a remote island, where there is only one winner – the last man standing. Players freely choose starting position, grab weapons and supplies to bolster your chances of survival in the battlegrounds. The battleground shrinks as time goes on, forcing players to engage each other in a tactical and diverse environment. Free Fire – Battlegrounds is the ultimate battlegrounds game with the most realistic graphics and easy-to-use controls.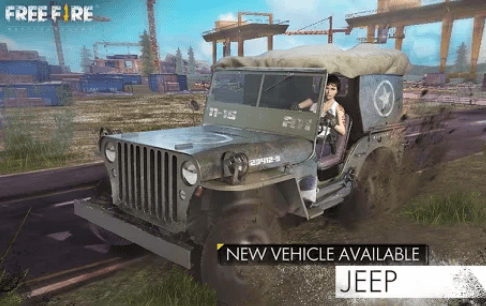 Battle royale in its original form
Search for weapons, stay in the play zone, loot your enemies and become the last man standing.
40-man battle royale
Play against 40 players and become the last man standing amidst the chaos that ensues.
Form squads of up to 4 players
Carry your friends to victory and become the last team standing. You can also form a random team and power your way to victory!
Realistic, open world
Diverse environments for players to explore and combat. Detailed field design, enjoy the realistic experience for players seeking cover in grass, behind a tree or inside a trench.
Large variety of weapons and attachments
Scopes have now been added! Rain bullets on your enemies with rifles and submachine guns, or snipe them down from afar with an 8x scope. Each weapon comes with an array of available attachments to loot. By expertly choosing the right attachment for the situation, every round will never be the same.
Create your own strategy and style
Fate is in your own hands. Actively chase down your enemies, hide in a bunker or taunt them from a vehicle. Your life, play it your way.
User Reviews:-
-In group mode please add friendly fire feature i have been killed by my teammate. Add chat box inside the match. It would be also good if u guys add flags for each players according to their country(in squad or solo). And pls make it 5 members in squad. Add commands like "Cover me, All Clear,etc". It will be more fun to play if all players could communicate fast to their teammates.
-I love the game so much , my friends and I played till dawn. Here are some suggestions. 1. We want to message players in/out of game. 2. Would be cool if there are more maps. 3. More vehicles , maybe a certain type of vehicle in a specific area. Like a bus , plane , boat. 4. More interactions between players. Maybe you can add pings? Or in game quick-text. For us to warn players. 5. I would totally love to fight with my friends. Why not add a private match up between platform friends? 6. Character customizing. More outfits. More types of females and males. 7. Please make the vehicles have fuels. Rather than
-All fixed now 5 stars! Frame rate use to drop like crazy cause of heating issues with my phone. (S7 edge) all good now. Idk what you guys did but good job. Definitely the best battlegrounds on mobile. Feels like a ps2 game its that good! You don't even feel like you're playing on mobile. I play with my mates all the time. Super fun!
-It's very fun! The network problem is solved [for me] Its a fun simulation of survival! One of my favorite things about this game is the jeep! Now I can run away easily from intruders! A suggestion! Perhaps make finding guns and cars harder or at a specific place? Its really easy to find a car and gun so it doesn't give us a chance to explore. Other than, its a great game!
-I don't earn money anymore my name is boomboy77 and. Can't get money anymore. Also when I play it closes the ap and t won't work until I delete t and download it again. The happens frequently. Make it so that if u due from a car u can use five health packs to revive to half. This game is amazing. Add more cars. Add more hair options. Add miscellaneous things like frying pans . Add motorbikes . Maybe extend the map and add fast cars too. Plz try and fix these problems at the top. Nice game tho😁
-First off. Imma tell the newbies real quick. If u die instantly outside of the safe zone. Thats completely unfair for people with low items. They can heal but they may have lower health than you if you stay in the safe zone. And of course the cars. People can shoot u inside the car because its logical
-Game is great. Didn't think I would enjoy this type of game but it's addictive. Only problems are you can't always leave a vehicle once you enter it, and even when inside a vehicle can still kill you. Also, make the safe zone barrier kill you instantly. I hid outside it and just healed when I got low. Easy victory if your opponent isn't stocked on first aid.
-I really like this game but unfortunately I've got two issues in this game, 1- waiting time should be reduced to atleast 15 seconds instead of 50. 2- it would be cool if shoot icon was on left side instead of right when player isn't zooming since most ppl can't aim and shoot at once on right side. Would be cool to see these two issues fixed in next update 🙂
-Need changes on configuration options. Divide the volume control to BGM, mic voice, music, sfx. Sometimes it's hard to hear teammate voice. And one more thing, improve character customization. it's no problem to have an expiration time but not on the lottery thing. Please consider it, and thanks for the great job. I'll look forward for next installments and improvements.
-Best Third Person Shooter! I love your game so much! More guns Gameplay so fun Control is Great! But 1 Problem Please Fix (THE FRIENDLY FIRE!) Please (111Dot Studio) PLEASE FIX THIS FRIENDLY FIRE! If you fix I Promise to Rate this game 5 Stars! Okay!