MAX Player 2018 – HD Video Player 2018
by Unitech Solutions
HD MAX player is the easiest phone video player, has a powerful video decoding capabilities to easily support you play almost all video files stored on your phone.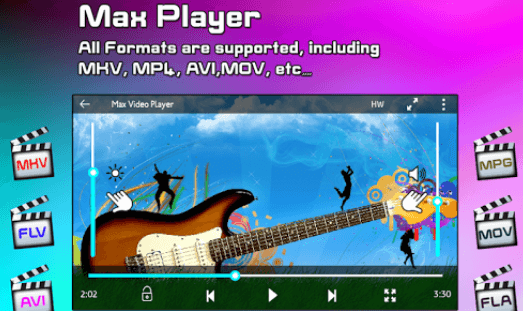 Download Max Player 2018 App (7 MB)
it supports all types of video format and audio format. video player also plays ultra high definition video files too. equalizer helps you to make your audio playing super cool. enjoy ultimate high quality video player. music player with mp3 cutter makes your favorite song to ring tone features
Support All the formats are supported, including MKV, MP4, AVI, MOV, Ogg, FLAC, TS, M2TS, Wv and AAC Etc.
HD MAX Player Functionality :
=> Plays all format videos.
=> thumbnail of vidplay video and mp3 files.
=> subtitle support for All videos
=> Support all video formats like flv, avi, mp4, f4v, m3u, m4v, vob, and other formats.
=> You can access all your video files within the app.
=> mp3 cutter for making the ringtone
=> plays all types video and audio formats including HD videos
=> Support multiple subtitle formats
=> Supports video streaming
=> mp3 player with equalizer
=> Easy screen brightness and volume control. Left side screen touch for volume control and right side screen touch for brightness control
=> bass booster for extra bass
=> Auto Rotation
=> Pinch video zoom
=> multiple widgets
=> Easy video sharing
The most useful hd max player in android platform. "HD MAX Player " is the most powerful media player in Android market that supports all the most popular video and audio formats without any conversion.
User Reviews:-