Applock by cPrivacy Solutions
AppLock, best and most powerful app locker & privacy guard, is a smart app lock app.
AppLock protects your privacy. Lock most private apps, hide photos, hide videos, giving your phone 360° security protection. AppLock can lock Facebook, WhatsApp, Instagram, SMS, Contacts and any apps containing privacy contents. Prevent unauthorized access and guard privacy. AppLock provides you a privacy safety guard!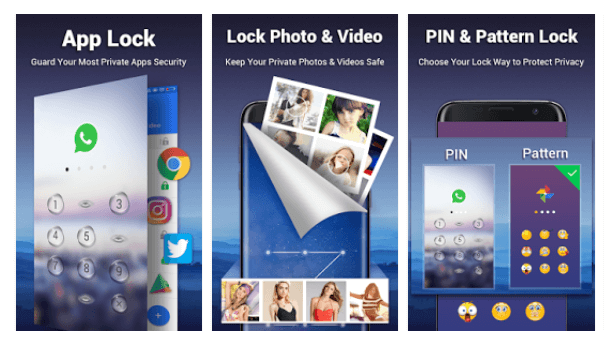 AppLock Highlight Features:
🔒Smart App Lock:
►Lock social apps privacy: Facebook, Snapchat, WhatsApp, Messenger, Instagram etc. prevent others from checking your messages, email and contacts.
►Lock photo & video apps: Protect your private photos and videos from the prying eyes of intruder
►Lock phone setting: Lock Wi-Fi, Mobile Data, Bluetooth to prevent others from changing your phone setting.
►Lock Google Play Store: Lock games and markets to stop kids from buying unnecessary items
►Lock incoming calls:
🔒Safe Photo & Video Vault:
Hide your most private photos and videos. Lock them inside safe place. Never worry about your private data getting viewed by snoopers. More safe!
🔒Safe Lock Screen:
AppLock protects your phone from intruders with PIN & pattern lock security! Pattern lock has unique lock screen pattern password drawn with your finger and it is easier and faster to unlock. PIN lock has random keyboard. Much safer to lock apps. No more worry people may peep the password or pattern.
🔒Break-in Alert-Intruder Selfie:
Protect your apps all the time. No one can snoop on your apps without your permission. Automatically take a picture of the guy input wrong password
🔒Fake Lock:
Disguise your apps lock screen to prevent others from breaking into your password. Fingerprint scanner and fake force close dialog will hide the real lock screen. More safe to secure phone privacy!
🔒Customized Lock Mode:
AppLock provides the temporary unlock. You don't need unlock apps every time.
-Lock your apps at the device screen off
-Lock your apps after the device screen has been off from 5 mins
AppLock is your personal private app lock protecting your privacy! A must-have privacy guard!